The psychological backgound
Many of us are brought up by their parents using the method of withdrawal of affection. We have done something wrong, we may not even know what, or been somehow not good enough, and the response from our parents is disappointment, disapproval, the withdrawal of active expressions of love. This can be quite subtle, the parents would probably deny that they are punishing the child, but to the child it feels existentally threatening. The child feels a fear of abandonment, emptiness, a lonely ache in the belly and in the first chakra. The nourishing life force of love and approval has been cut off.
The child longs for contact, a reconnection with acceptance and life. It longs to be given energy again. But what energy is possible when it has been bad, has been a failure? Anger, punishment is the only credible contact. And, although fearful, even this is better than the nothingness, the deadness of being cut off. So, trembling, the child desires what it fears: a punishment in the form of contact, to receive the anger directly where the empty aching is, in the first chakra. This is not so much a desire for pain as a longing for an intensity of contact, intense enough to feel met in one's ("bad") self. Part of the desire is for the intangible, confusing, psychological punishment to become tangible, clear and physical. If directed to the first chakra, the bottom, the existential punishment is transformed – the message is "you are there, you are worth getting angry with" – and the gift of energy is received with a surge of sexual aliveness. Vague feelings of guilt are purged from the body in the sexual area where they are located and one feels purified, renewed, grateful for a new start.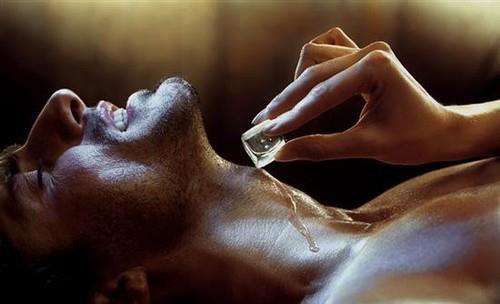 People often get interested in the BDSM scene because it addresses their unconscious desires without revealing them. (Some people seeking bdsm experience from private mistress or escort services) The use of fetish gear, leather, rubber etc. can play an important role in coming out with these inner desires, stepping through fear and secrecy and feeling a sense of identity in belonging to a new "family" in the scene. Dressing in fetish gear can disguise and compensate for childhood feelings of shame and vulnerability. The child's feeling of humiliation is often acted out, but if the desires are not connected to their roots then healing is not possible. Instead we repeatedly act out these desires – pleasurably, but without healing, so that each time hunger is appeased but the spirit not nourished and we soon feel hungry again. When desires stay unconscious in their origins, even if given space and permission in BDSM rituals, they can often acquire an obsessive compulsive character.